04aug(aug 4)12:00 am06(aug 6)11:59 pmEvent OverEvent CancelledYosemite Half Dome Backpacking AdventureActivity:BackpackingLevel:StrenuousDays:3Capacity:6-8Availability:On Sale
Time
4 (Saturday) 12:00 am - 6 (Monday) 11:59 pm
Location
Yosemite National Park
Event Details
Rising nearly 5,000 feet above Yosemite Valley and 8,800 feet above sea level, Half Dome is one of the most challenging and rewarding summits in Yosemite National Park. Join us on a 3-day backpacking adventure to check this iconic climb off your bucket list!
Learn from our experienced guides how to pack your bag, read a map, cook in the backcountry, hike safely in bear country and minimize your impact. Join our supportive community of Shoestring Warriors and take back your weekend!
Photos by Triptographer Mike Struna
Highlights For This Adventure
Experience many of Yosemite's icons, including Glacier Point, Panorama Trail, Little Yosemite Valley, Half Dome and the Mist Trail
Included With Every Shoestring Adventure
Experienced Wilderness First Responder/CPR Certified trip leaders
A supportive community of Shoestring Warriors
Gourmet backcountry meals
Our Triptographer will tag along to document the trip, so you can stay in the moment
Edited photos 3 weeks after your trip ends
Shoestring Warrior Adventure Kit with curated souvenirs
Wilderness permits, including Half Dome permits
One-way shuttle from Yosemite Valley to Glacier Point
Shoestring Adventures operates with special use permits. A portion of your ticket goes toward protecting and preserving this park for future generations.
Your Journey
Day 1: Meet in Yosemite Valley at 11am. Ride the shuttle from Yosemite Valley to Glacier Point (elevation 7,200-ft). Descend from Glacier Point and set up camp along Illilouette Creek. Total: 3.7-miles
Day 2: After a hearty breakfast, we will gradually climb out of the Illilouette Valley to the Panorama Trail, bringing us to the top of Nevada Fall before we descend to our wilderness campsite in Little Yosemite Valley (elevation 6,100-ft). Total: 5.5-miles
Half Dome: We'll swap our backpacks for lighter day packs, and decide as a group whether to hike 3.5-miles to summit Half Dome (elevation 8,842-ft) at sunset on Day 2 or sunrise on Day 3. Total: 7-miles
Day 3: Hike down the Mist Trail, passing Nevada and Vernal Falls, to Happy Isles trailhead. We plan to return to Yosemite Valley between 3-6pm. Total: 4-miles
Total: Approx. 20-miles
Schedule subject to change due to weather, camper ability/injury, natural events or park restrictions. Shoestring Warriors should be in good physical shape, but we will hike at an easy pace and take breaks as needed.
Trip Level: Strenuous
This adventure will challenge the most experienced of hikers. Advanced training on long-distance hikes with a pack is required.
Activity: 5-8 hours most days
Distances: Hike up to 12 miles most days
Surfaces: mountainous, exposed terrain with steep ascents/descents and uneven trails
Elevation change: up to 4,000 ft/day
Altitude: up to 14,000 ft.
Backpack Weight: 30-40 pounds
The approach to Half Dome is steep and difficult. The last 400 vertical feet (130 meters) up the eastern slope are so sheer that Yosemite staff have installed cables for you to cling to as you pull yourself up. Click here for tips on climbing the cables.
Meet Our Team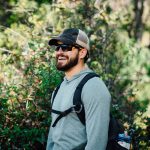 Trip Leader Graham has a Master's degree in Recreation Management at California State University-Northridge and a Bachelor's degree in Nutrition, Health, and Exercise from the University of Nebraska. He has a collective of 7 years working for Outward Bound and various other collegiate outdoor recreation programs. He is a certified Wilderness First Responder, has taken his Avalanche 1 course and is working towards his AMGA Single Pitch Instructor Certification. He is an avid climber, surfer, backpacker and backcountry skier. He is absolutely stoked to live on the West coast where he can share his outdoor passions with others. LEARN MORE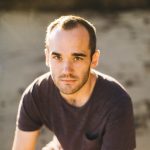 Growing up in a family of artists on the east coast, Triptographer Mike Struna was always taught to appreciate the beauty around him. After moving out to Los Angeles, the mini adventures grew to include the many natural wonders in and around California. His desire to capture moments in nature led to photographing desert landscapes at night. Using long exposure photography, Mike captures surreal night time landscapes lit by natural and artificial light sources. LEARN MORE
First Time Shoestring Warrior?
Before your trip, you will receive a Welcome Kit with a customized package list, introductions to your fellow campers, weather forecast and everything else you need to know to prepare.
Gear List
Provided by Shoestring Adventures
group first aid kit
group cooking gear
stoves and fuel
group bathroom trowel
Required Gear (provided at no additional cost if you don't have your own)
backpack (60 liters or more) with rain cover
sleeping bag
sleeping pad
headlamp and spare batteries
tents (2 and 3-person tents will be shared with 1-2 other campers)
bear canister
Required Clothing
day pack for Half Dome summit
non-slip gloves to grip the Half Dome cables
bandana
beanie
camp shoes
gloves
hat
sunglasses
insulating layer
rain shell
hiking pants or shorts
hiking shirt
hiking boots or shoes (broken in)
hiking socks
undergarments
long underwear/pajamas
Required Personal Items
backpacking cup, bowl, utensils
ID & health insurance card
water bladder or bottles with minimum 3L capacity
SPF chapstick and sunblock
Toothbrush/toothpaste
deodorant
unscented baby wipes
small towel
contacts/solution
comb/hair band
bug repellant
hand sanitizer
prescription medications
personal bathroom kit: toilet paper, ziplock bags, personal wipes, hand sanitizer
Optional
camera and accessories
trekking poles (highly recommended for balance and to help reduce strain on knees)
small pillow
small multi-tool
camp chair
Transportation
Transportation to Yosemite National Park is not included. While you are responsible for getting to and from Shoestring Adventures locations, we will help coordinate carpools for Shoestring Warriors leaving from Los Angeles. Passengers are expected to contribute to their driver for gas and wear & tear. Shuttle from Yosemite Valley to Glacier point is included.
Getting There
Traveling from out of town? San Francisco, Oakland, San Jose and Reno/Tahoe International Airports are approximately 5 hours drive to Yosemite Valley. Click here for a complete list of airports. You will need to rent a car to get from the airport to the park.
Weather
Typical late spring to summer climate in Yosemite Valley is warm to hot, with occasional rain (usually as afternoon thundershowers, especially at the higher elevations) with average daytime temperatures in the 80's and nighttime temperatures in the 50's. We will attempt to avoid afternoon thundershowers by getting an early start. If storm clouds are present, we will not attempt to summit Half Dome for your safety.
Even if you manage to avoid getting struck by lightning, the rain from a thunderstorm will make the granite surface of the cable route even more slippery and dangerous than it already is. No refunds will be given if we cannot summit Half Dome due to unsafe weather conditions.
Health & Safety
Supporting the health and safety of participants is among our top priorities. All Shoestring Adventures trip leaders hold Wilderness First Responder/CPR, Leave No Trace and Food Handling certifications. In remote destinations, we carry a DeLorme inReach Explorer Satellite Messenger to contact authorities in case of emergency.
On the trail, we encourage campers to stay together, wear sun protection and stay hydrated. We minimize risk by keeping groups together while hiking, encouraging everyone to drink water and apply sunscreen, and making sure we're prepared with gear appropriate to weather and our activities.
Not Included
Transportation is not included.
Alcoholic beverages
Tips for trip leader and photographer
Meal at local restaurant
$35 park entrance fee
Policies
Participants must complete an Enrollment Form and sign our Participant Agreement.
Registration and Payment
We don't want finances to be a barrier to the outdoors. To request a custom payment plan, email alyx@shoestringadventures.com.
To protect your investment, we recommend that you purchase travel insurance.
Please read our FAQ for more information and our cancellation policy.
Member Pre-sale: $535
Early Bird: $595 (End 7/13)
Regular: $650 (After 7/13)
Ticket Section Title
Tickets are not available for sale any more for this event!