16marallday18alldayEvent OverJoshua Tree Backpacking CourseActivity:Backpacking,CoedLevel:ModerateDays:3Capacity:6-8Availability:On Sale
Time
march 16 (Friday) - 18 (Sunday)
Location
Joshua Tree National Park
Event Details
Curious about backpacking but feeling overwhelmed or intimidated? Join us for a backpacking adventure in Joshua Tree National Park!
This 2-night experience is designed to help beginners gain confidence in essential backcountry skills. Learn how to pack your bag, read a map, prepare a delicious meal outdoors, minimize your impact, and more!
We will get up-close-and-personal with the desert landscape as we head into the backcountry on the Boy Scout Trail, navigating the sandy washes and rock formations to our first wilderness campsite. We will continue our journey through the Wonderland of Rocks to Willow Hole, an oasis shaded by desert willows and frequented by bighorn sheep. Along the way, we will keep our eyes peeled for desert wildflower blooms. Finally, we will retrace our steps along the Boy Scout Trail for our final descent to Indian Cove and celebrate with a victory lunch at a local restaurant.
Join our supportive community of Shoestring Warriors and take back your weekend!
Photos by Triptographer Shani Leead on our Joshua Tree Backpacking Adventure
Highlights For This Adventure
Explore the wide open backcountry, mini-slot canyon and rock formations of Joshua Tree National Park away from the crowds
Go on a scavenger hunt to view early blooms during peak desert wildflower season
Stargaze far away from city lights and fall asleep to the sound of coyotes howling
Find out if scorpions really glow in the dark
Learn essential backcountry skills in a judgement-free environment
Included With Every Shoestring Adventure
Learn from our Wilderness First Responder/CPR certified trip leaders, no matter your level of experience
Connect with our community of like-minded people through Meetups and happy hours
Join our free Ambassador-led group hikes to train for your adventure
Borrow gear at no cost if you don't have your own
Enjoy gourmet camp meals—everything tastes better outdoors
Get professional photos to remember your adventure from our Triptographers
Get your Shoestring Warrior Adventure Kit with curated souvenirs
Leave the planning to us—permits and campground reservations included
Shoestring Adventures operates with special use permits. A portion of your ticket goes toward protecting and preserving this park for future generations.
Your Journey
Day 1: Meet at the Boy Scout trailhead in Indian Cove at 8:00am, where we will begin and end our journey. After orientation, we will caravan to another Boy Scout trail entrance for a flat 2.4-mi out-and-back hike to cache (or store) our water for Day 2. Then we will caravan back to Indian Cove. We will navigate through a sandy wash and climb out of the canyon to the Big Pine Trail intersection (4.25-mi), where we will find a place to set up camp. Finally, we will prepare and enjoy a hearty backcountry dinner. Total: 6.65-miles
Day 2: After coffee and breakfast, we'll break down camp and continue our journey for 2.6-mi along Boy Scout Trail to the intersection of Willow Hole Trail, where we will drop our packs and find a place to set up camp. After lunch, we will continue our journey through the Wonderland of Rocks to Willow Hole, an oasis shaded by desert willows and frequented by bighorn sheep (approx. 4.6-mi round trip). Before returning to camp, we must make an important detour to retrieve our cache of drinking water. Return to camp to watch the sunrise and enjoy a well-deserved backcountry feast! Total: Total: 7.2-miles
Day 3: On our final day in Joshua Tree, we recommend waking up early to catch the desert sunrise. After coffee and breakfast, we will break down camp and retrace our steps along the Boy Scout Trail, completing our journey at Indian Cover around noon (approx. 7-mi). Finally, we will celebrate with lunch at a local restaurant before returning home. Total: 7-miles
Schedule subject to change due to weather, camper ability/injury, natural events or park restrictions. Shoestring Warriors should be in good physical shape, but we will hike at an easy pace and take breaks as needed.
Your Guides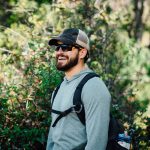 Trip Leader Graham has a Masters in Recreation Management at California State University-Northridge and a bachelor's degree in Nutrition, Health, and Exercise from the University of Nebraska. He has a collective of 5 years working for Outward Bound and various other collegiate outdoor recreation programs. He is a certified Wilderness First Responder, as well as an avid climber, surfer, backpacker and backcountry skier. He is absolutely stoked to be living on the West coast where he can share his outdoor passions with others. LEARN MORE
If catching a sunrise, summiting peaks, crushing tacos, or throwing up shakas is involved, Triptographer Clare is probably close by. She majored in social media and her parents still ask if that was legitimate. She is a born and bred Californian, but she accidentally moved to Chattanooga, TN once and fell in love with the south. Hands down, the best feeling in the world is crushing a strenuous trail then crushing a beer. Lastly, her #1 goal in life is to keep the stoke alive. Shall we? LEARN MORE
Trip Level
While previous backpacking experience is not required, Shoestring Warriors must be physically fit and prepared to hike up to 7-miles with approximately 35 pounds on your back. Check out our upcoming schedule of community hikes to train with us!
First Time Shoestring Warrior?
After registration, you will receive a Welcome Kit with a customized package list, introductions to your fellow campers, weather forecast and everything else you need to know to prepare for our trip.
Gear List
Provided by Shoestring Adventures
group first aid kit
group cooking gear
stoves and fuel
group bathroom trowel
Required Gear (provided at no additional cost if you don't have your own)
backpack (60 liters or more) with rain cover
sleeping bag
sleeping pad
headlamp and spare batteries
tents (2 and 3-person tents will be shared with 1-2 other campers of the same gender)
Required Clothing
bandana
beanie
camp shoes
gloves
hat
sunglasses
insulating layer
rain shell
hiking pants or shorts
hiking shirt
hiking boots or shoes (broken in)
hiking socks
undergarments
long underwear/pajamas
Required Personal Items
backpacking cup, bowl, utensils
ID & health insurance card
water bladder with minimum 3L capacity (x2)
SPF chapstick and sunblock
Toothbrush/toothpaste
deodorant
unscented baby wipes
small towel
contacts/solution
comb/hair band
bug repellant
hand sanitizer
prescription medications
personal bathroom kit: toilet paper, ziplock bags, personal wipes, hand sanitizer
Optional
camera and accessories
trekking poles (highly recommended for balance and to help reduce strain on knees)
small pillow
small multi-tool
camp chair
Transportation
Transportation is not included. While you are responsible for getting to and from Shoestring Adventures locations, we will help coordinate carpools for Shoestring Warriors leaving from Los Angeles. Passengers are expected to contribute to their driver for gas and wear & tear.
Getting There
Traveling from out of town? The closest airports are Palm Springs International—45 minutes from park headquarters—and Ontario International, about an hour and a half from the park. Los Angeles International, Burbank, and Long Beach Airports are all about two to three hours away.
Plan to fly in the night before. You can find a place to stay on Airbnb. We will meet bright and early on Day 1, around 8am. We will return to civilization around noon on Day 3. If you would like to join us for victory lunch at a local restaurant, plan to depart from Joshua Tree to your airport destination around 2pm.
Weather
Average high in February is 64 degrees Fahrenheit. Late February and March is also when desert wildflowers begin to bloom.
Health & Safety
We take extra measures to ensure your safety and maximum level of fun. All Shoestring Adventures trip leaders hold Wilderness First Responder/CPR, Leave No Trace and Food Handling certifications. In remote destinations, we carry a DeLorme inReach Explorer Satellite Messenger to contact authorities in case of emergency.
On the trail, we encourage campers to stay together, wear sun protection and stay hydrated. We minimize risk by keeping groups together while hiking, encouraging everyone to drink water and apply sunscreen, and making sure we're prepared with gear appropriate to weather and our activities.
Not Included
Transportation is not included.
Alcoholic beverages
Tips for trip leader and photographer
Meal at local restaurant
Park entrance fee
Policies
Participants must complete our Registration Form and sign a Liability Waiver & Media Release. Please read our FAQ for more information and our cancellation policy.
Registration and Payment
We don't want finances to be a barrier to the outdoors. To request a custom payment plan, email alyx@shoestringadventures.com.
Ticket Section Title
Tickets are not available for sale any more for this event!