26octAll Day28Sold Out!Grand Canyon South Rim Backpacking AdventureActivity:Backpacking,CoedLevel:StrenuousDays:3Capacity:6-8Availability:Early Bird
Time
october 26 (Friday) - 28 (Sunday)
Location
Grand Canyon National Park - South Rim
S Entrance Road
Event Details
The Grand Canyon is a unique and rugged place that has captivated travelers, explorers and outdoor adventurers for centuries. People travel from all corners of the world to see her wonder, but only a fraction truly experience the Canyon on her own terms. This three-day backpacking trip offers you the opportunity to descend into the heart of the Grand Canyon.
We will initiate our journey on the south rim, surrounded by the ponderosa pine forest at 7,000 ft elevation. On the trek down, we will pass by historical sites, skirt around massive towers of rock, and descend through distinctly hued rock layers. You will pass through many layers of ecosystems, rock, and history before arriving at the roaring Colorado River. The trek out is just as stunning as the way in, and you may be surprised by the abundance of water and life through this desert journey.
Join our supportive community of Shoestring Warriors and take back your weekend!
Photos by Triptographer Cameron Gardner
Highlights For This Adventure
Learn all the backpacking skills you need to feel confident in the backcountry.
Explore the most dramatic section of the Grand Canyon.
Dip your toes into the massive Colorado River after a long day of hiking.
Learn about the local desert wildlife and plants.
Discover archaeological sites.
Learn about the formation and history of the Grand Canyon.
Included With Every Shoestring Adventure
Learn from our Wilderness First Responder/CPR certified trip leaders, no matter your level of experience
Connect with our community of like-minded people through Meetups and happy hours
Join our free Ambassador-led group hikes to train for your adventure
Borrow gear at no cost if you don't have your own
Enjoy gourmet camp meals—everything tastes better outdoors
Get professional photos to remember your adventure from our Triptographers
Get your Shoestring Warrior Adventure Kit with curated souvenirs
Leave the planning to us—permits and campground reservations included
Shoestring Adventures operates with special use permits. A portion of your ticket goes toward protecting and preserving this park for future generations.
Your Journey
Our hiking route and campsites depend on permit availability. Before your trip, you will receive our Welcome Kit with a detailed itinerary.
Day 0: We recommend staying in Flagstaff the night before your trip begins, approximately 1.5 hours from the South Rim entrance. See below for suggested accommodations.
Day 1: We will meet at the trailhead in the early morning to begin our descent into the Grand Canyon.
Day 2: We will continue our journey, exploring the inner canyon.
Day 3: On the final day of our adventure, we will climb out of the Grand Canyon.
Total: Approx. 16 – 28 miles
Schedule subject to change due to weather, camper ability/injury, natural events or park restrictions. Shoestring Warriors must be in good physical shape, but we will hike at an easy pace and take breaks as needed.
Grand Canyon Permits Lottery
We must have at least one registered participant to enter the Grand Canyon's lottery permit system. We will apply 4 months in advance on the first of the month, which is why we offer 10% discount if you book at least 5 months in advance. In order to increase our chances of success, we may apply for backup departure dates, one day earlier or later than advertised. If we are not successful obtaining permits, you will receive a full refund. Please don't book any flights or accommodations until we contact you to confirm permit reservations.
If your trip is in September, register before May 1 for 10% discount
If your trip is in October, register before June 1 for 10% discount
If you trip is in November, register before July 1 for 10% discount
Meet the Team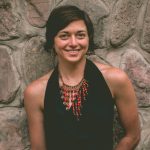 Trip leader Jacqueline has had an infatuation with the canyons of the southwest her whole life. With a degree in Environmental Studies, her passions lie in reclaiming environmental and human health through reconnecting others to the wild. Based in Flagstaff, Arizona, she spends her days rock climbing, trail and ultra running, and exploring the wilderness in any way possible. She is a rock climbing, backpacking, mountaineering and alpine guide, and also a writer and yoga teacher during the off-season. When she is not frolicking in the mountains and canyons, she can be found practicing yoga, playing music and singing, cooking yummy food, and brewing all sorts of herbal and medicinal concoctions in her home apothecary. LEARN MORE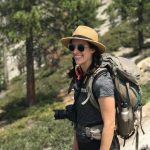 Triptographer Lindsey is a professional photographer, artist, and barista, uprooted Southern California surfer at heart, and avid outdoorswoman. When not behind her camera or slinging lattes, she is usually behind a book or a map, plotting her next adventure. She also really loves mac n cheese. LEARN MORE
Trip Level: Strenuous
This adventure will challenge the most experienced of hikers. Advanced training on long-distance hikes with a pack is required.
Activity: 5-8 hours most days
Distances: Hike up to 12 miles most days
Surfaces: mountainous, exposed terrain with steep ascents/descents and uneven trails
Elevation change: up to 4,000 ft/day
Altitude: up to 14,000 ft.
Backpack Weight: 30-40 pounds
Check out our upcoming schedule of community hikes to train with us! If you're not sure, please feel free to contact alyx@shoestringadventures.com to discuss if this trip is right for you.
First Time Shoestring Warrior?
Before your trip, you will receive a Welcome Kit with a customized package list, introductions to your fellow campers, weather forecast and everything else you need to know to prepare.
Gear List
Provided by Shoestring Adventures
group first aid kit
group cooking gear
stoves and fuel
group bathroom trowel
Required Gear (provided at no additional cost if you don't have your own)
backpack (60 liters or more) with rain cover
sleeping bag
sleeping pad
headlamp and spare batteries
tents (2 and 3-person tents will be shared with 1-2 other campers)
Required Clothing
bandana
beanie
camp shoes
gloves
hat
sunglasses
insulating layer
rain shell
hiking pants or shorts
hiking shirt
hiking boots or shoes (broken in)
hiking socks
undergarments
long underwear/pajamas
Required Personal Items
cup, bowl, utensils
ID & health insurance card
water bladder or bottles with minimum 3L capacity
SPF chapstick and sunblock
Toothbrush/toothpaste
deodorant
unscented baby wipes
small towel
contacts/solution
comb/hair band
bug repellant
hand sanitizer
prescription medications
personal bathroom kit: toilet paper, ziplock bags, personal wipes, hand sanitizer
Optional
camera and accessories
trekking poles (highly recommended for balance and to help reduce strain on knees)
small pillow
small multi-tool
camp chair
bathing suit
Transportation to Grand Canyon National Park is not included. While you are responsible for getting to and from Shoestring Adventures locations, we will help coordinate carpools for Shoestring Warriors leaving from Los Angeles. Passengers are expected to contribute to their driver for gas and wear & tear.
Traveling from out of town? The closest commercial airports are Phoenix, Flagstaff and Las Vegas. Click here for a complete list of airports. You will need to rent a car to get from the airport to the park. Please do not book any flights or accommodations until we contact you to confirm permit reservations.
We recommend staying in Flagstaff the night before your trip begins, approximately 1.5 hours from the South Rim entrance. For budget-friendly accommodations, we recommend Hotel DuBeau or Grand Canyon International Hostel. For fancier accommodations, we recommend the Weatherford Hotel.
Weather
Fall is a pleasant time to experience the Grand Canyon, with average high temperatures gradually falling from the 60s in September to the 50s by November along the Rim, and from the 90s in September to the 70s by November along the river.
Health & Safety
Supporting the health and safety of participants is among our top priorities. All Shoestring Adventures trip leaders hold Wilderness First Responder/CPR, Leave No Trace and Food Handling certifications. In remote destinations, we carry a DeLorme inReach Explorer Satellite Messenger to contact authorities in case of emergency.
On the trail, we minimize risk by keeping groups together while hiking, encouraging everyone to drink water, stay fueled and apply sunscreen, and making sure we're prepared with gear appropriate to weather and our activities.
Not Included
Transportation is not included.
Alcoholic beverages
Tips for trip leader
Meal at local restaurant
Park entrance fee $30
Policies
Participants must complete our Registration Form and sign a Liability Waiver & Media Release.
Registration and Payment
We don't want finances to be a barrier to the outdoors. To request a custom payment plan, email alyx@shoestringadventures.com.
To protect your investment, we recommend that you purchase travel insurance.
Please read our FAQ for more information and our cancellation policy.
Early Bird: $610

Regular: $670 (After 8/31)
Ticket Section Title
Tickets are not available for sale any more for this event!